ALMOST CHARLIE • A Different Kind of Here
[CD released April 7, 2017]
Berlin singer / multi-instrumentalist Dirk Homuth and New York City lyricist Charlie Mason have teamed up again to pen
A Different Kind of Here
, Almost Charlie's fourth album, and the band's third record for the Minneapolis-based Words On Music label, now celebrating its 20th year on the independent music scene.
With twelve new songs brimming with impossibly elegant hooks, poignant imagery, and enduring melodies that flirt with The Beatles and Simon & Garfunkel,
A Different Kind of Here
is infused with an unmistakable flair and cohesiveness that belies the fact that this uniquely 21st Century transatlantic songwriting team have never met.
The hushed opening acoustic strains of "Shadow Boy" quietly launch the record by showcasing the impactfulness of Homuth's understated voice, with simple strikes of the glockenspiel punctuating his melodic gifts.
A string quartet escorts the 3/4-metered "Ambivalent" - an affectionate nod to Elliott Smith in which Homuth directs a captivating waltz that spells the frustrations of an indecisive object of one's affections.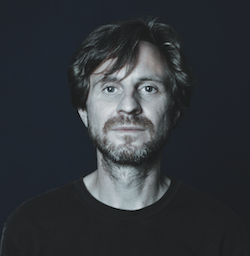 Homuth's unfailing affinity for tunefulness seamlessly blends the album's assortment of sonic textures, from the carnivalesque
Sgt. Peppers
-meets-
Westworld
imaginings of "Robot" to the gentle, piano-guided interlude "Sunset On Elysian Fields" that evokes mid-period Felt.
Duskier undercurrents percolate through the record, such as in "The Loneliness of Sharks" - one of several compositions that begin deceptively spare but blossom into orchestral-laden gems.
Homuth's nuanced compositions enable him to be the ideal messenger to deliver Mason's multifaceted lyrics which are sharp, at times playful, but always authentic.
The album closes with the anthemic "I'll Still Be Missing You," in which the first chorus is bookended by an opening verse simmering with psychedelic embellishments and a stylish trumpet solo and a second that crescendos into a one-minute blistering Teenage Fanclub-esque guitar solo to triumphantly conclude the record.
A Different Kind of Here
was recorded in Berlin by Rob Cummings and produced and mixed by Homuth.
---
---
Reviews
A sea of transcendent melancholy.
—
Rolling Stone Germany
I consider Almost Charlie's songs to be about as close to crafted perfection as exists in the pop world.
—
Aiding & Abetting
Such incredibly inspired music. Almost Charlie has an underground buzz that reminds us of the excited devotion of those who first heard Big Star when the band was originally making music. Spinning this, we feel like we're floating in heaven. Ahhhhhhhhhhhhh...totally beautiful. TOP PICK.
—
babysue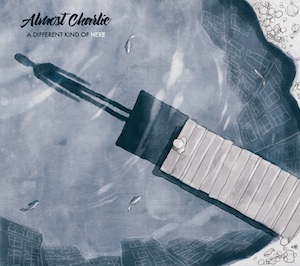 Additional Releases