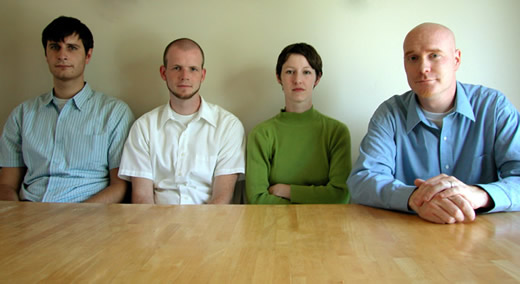 Coastal
formed in 1999 as a hybrid of several musicians who had played for years in different bands in the Provo, Utah area. Singer and guitarist Jason Gough had been involved in shoegaze style bands for several years (
Lumiere
,
The Mantarays
,
Azure
) and it was through such bands that he met up with bassist Josh Callaway (
Just Lucy
). A middle ground was sought between Jason's shoegaze and Josh's slocore leanings as the duo started to write songs together.
As their music developed, Gough and Callaway enlisted Jim Harker (
Stigma
,
The Melody Tree
) to take on drum duties and occasionally play second guitar. Interestingly, Gough and Harker both originally hailed from Southern Alberta, Canada and lived 20 minutes from each other, but never met until Coastal was formed. With the main structure in place and a sound of their own emerging, the trio felt the music needed an additional presence. Sarah Holyoak then joined to play organ and sing backing vocals to complete Coastal's line-up. Within a year Holyoak left the group and Luisa Gough (Jason's wife) took over on keyboards and backing vocals, to comprise the quartet that is Coastal today.
In May 2000, the band self-released a five-song CDr EP. These songs caught the ear of Words On Music and were remastered and combined with three new recordings for their self-titled debut, released on Words On Music in March 2001.
Coastal
is an inspired blend of restraint and tonal splendor, punctuating the contemplative atmospheres developed by artists such as
Low
and
Ida
. "Northern" is a lasting piece with a guitar melody that aches from measure to measure, buttressed by Calloway's sturdy bass. "Cinder" is a slightly more optimistic affair, hinting at the brighter moments of
Angelo Badalamenti's
music on
Twin Peaks
. The album was released to great acclaim, and songs from Coastal were played by
John Peel
, the renowned British DJ, on his BBC Radio 1 show.
In May, 2001 the UK independent label
Becalmed Records
released a 7" of "Northern" and "Cinder." A 10" of new material entitled
Winter
was released in 2002 on
Dreams By Degrees
and later the same year a split CD with
Midsummmer
featuring five new tracks was released by
Sunseasky
.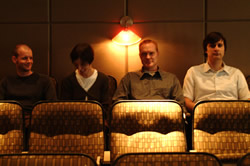 In 2004 Coastal recorded their second full-length album,
Halfway To You
, released in August of that year by Words On Music. The album features nine new songs that highlight the Gough's breathtaking interweaving vocals, and is the most sophisticated and stunning collection of Coastal songs to date.
Halfway To You
retains the fragile beauty of their debut, but evokes a more textured ambiance, owing in part to a wider array of instrumentation employed on these new songs — including cello, bells, acoustic guitar, found samples, and viola (courtesy of
Lorna's Helen Maltby
). Gough's sparse songwriting earnestly beckons the listener to join him on his alternately optimistic and melancholic pursuits. With Luisa adding her enchanting voice to nearly every song, the result is a union of harmonies that rivals the best of
Alan Sparhawk
and
Mimi Parker
(
Low
) and
Neil Halstead
and
Rachel Goswell
(
Slowdive
/
Mojave 3
).
Halfway To You
is a welcome reminder that leisurely-paced music can also shimmer and beguile.
In March 2015 Words On Music will release
Beneath the Snow and Streetlights
- the band's third album including its first new material in a decade. The record features 15 songs including five new songs plus rarities and alternate and acoustic versions.
Coastal has performed live in Utah and on the West Coast, including opening for luminaries such as
Low
,
American Analog Set
,
The Czars
,
Timonium
and
The Autumns
. Highlights for the band include opening for
Low
in London in 2003 at a sold out show of over 1300 people at the famed Union Chapel.
---
Words On Music Releases
Full Discography
Coastal (Words On Music, 2001) CD
Northern (Becalmed Records, 2001) 7"
Winter (Dreams by Degrees, 2002) 10"
This Ageless Night (Sun Sea Sky Productions, 2002) Split CD with Midsummer
Halfway to You (Words On Music, 2004) CD
Beneath the Snow and Streetlights (Words On Music, 2015) CD
Compilation tracks
Lonely This Christmas? (Startrip Records, 2001) CD snow in bethlehem
We are not alone - songs for the lo-fi generation - volume four (Best Kept Secret, 2001) cassette celesta
Our Turn Compilation (Supernal Industry, 2002) CD calvary
A Moonpalace Records Compilation (Moonpalace Records, 2003) CD eternal
The Pet Series: The Bird (Sally Forth Records, 2003) CD an august night
This Is My Country (Jabalina Musica, 2004) CD leaves
Into the Glasshouse (Ocean Music, 2005) CD drift
Love In the Time of COVID (VeniVersus, 2020) Digital album CovidLOVE