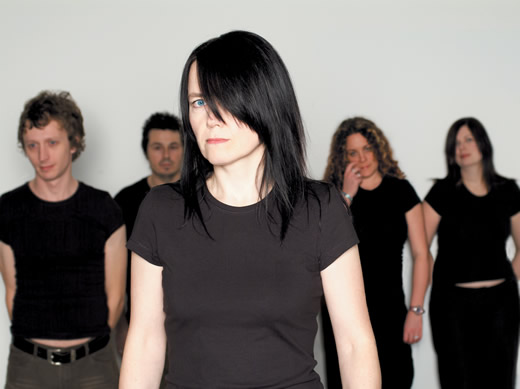 Fiel Garvie
is one of the United Kingdom's most enigmatic and innovative pop music ensembles. After a previous collaboration in the acclaimed quartet
Passing Clouds
in the early 1990s (
Protect Your Paper Ears
EP,
Creation's Happy Reel
EP), Anne Reekie and Adam Green formed Fiel Garvie in 1996, along with Greg MacDermott and Jude Bugden. MacDermott had previously played with
Jane Pow!
in the 1990s (and currently also plays with the Japanese-pop / art-punk outfit
Hyper Kinako
). Keyboardist Emma Corlett rounded out the quintet in 2002. During the past ten years the quintet has released five singles, an EP, and three full-length albums.
The debut single,
Glass Faced Warrior
is highlighted by Anne's tremendously earnest vocals on the ballad "Risk," whose heart-wrenching chorus coerces you to reach out to her with outstretched arms to keep her from falling. "Risk" was in fact the first Fiel Garvie composition to end up on a record.
1997's
For What I Love
garnered
Melody Maker's
Single Of The Week honors, described as "music you could drown in" with Anne's vocals portrayed as a "headburst of unchecked emotion."
1998's
Colour You
single concludes with the gorgeous "Swing," a bedtime lullaby buoyed by a delicate piano and perhaps Anne's most optimistic rendition to date. The single continued Fiel Garvie's good habit of implementing colorful, imaginative artwork and design on all their releases.
Time Out
heralded Fiel Garvie's fourth single,
Difference of Me
, as "a band taking a roundabout route to somewhere wonderful." The song also appears on their debut album,
¡Vuka Vuka!
, along with eight new tracks and three newly recorded versions of songs from the band's early singles ("Risk," "Glass Faced Warrior," and "For What I Love"). The album title translates to "Wake Up! Wake up!" from Mbele, a Zimbabwean dialect; it is also slang for natural viagra. The album's centerpiece and standout track is "Dress Down," in which Anne's nearly naked voice conjures fanciful imagery through the delivery of her trademark, inventive phrases (e.g. "I hate you so into gally," "Do Johnny jaunty jo," "You dress yourself to the nines"). The song builds layer by layer until it bursts with innumerable orchestral treats, including a well-placed mellotron!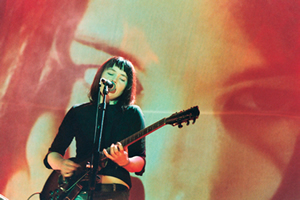 Critics from across the continent alternately marveled at the aggressive poetic content of
¡Vuka Vuka!
as well as the band's trademark eye-catching art design (France's
Les Inrocks
and
Compact
, Spain's
Ruta 66
, and Italy's
Rockerilla
led the critical wave).
Fiel Garvie made their North American debut with the arrestingly beautiful
Leave Me Out Of This
, released by Words On Music in 2003. The eleven-song album included compositions written as early as 1997 (e.g. the live favorite "Old Friend").
All Music Guide
drew favorable comparisons to
Drugstore
and
Mazzy Star
and called it a "quite gem of an album," while
Pop Matters
reveled in its "adventurous, seductive, enveloping sound that holds you in its thrall for 45 entrancing minutes."
Fiel Garvie recorded their third album,
Caught Laughing
, throughout 2004 and 2005. The nine songs were mixed in Scotland in early 2006 by
Geoff Allan
(
Camera Obscura
,
Teenage Fanclub
,
Belle & Sebastian
,
Mogwai
). On
Caught Laughing
the quintet continues to blend a fluency in melodies and hooks with a unique flair and ambience that sidesteps predictable pop conventions. The band also takes an occasional detour into baroque pop with pronounced string arrangements in songs like "Special Rate."
Fiel Garvie has performed with a variety of acts including
Camera Obscura
,
Magoo
,
Belly
,
Black Box Recorder
,
Muse
,
Deus
, and
The Telescopes
.
---
Anne Reekie - vocals, guitar, keyboards, lyrics
Adam Green - guitar, keyboards
Jude Budgen - bass
Greg MacDermott - drums, backing vocals
Emma Corlett - keyboards, backing vocals



Words On Music Releases
Full Discography
Glass Faced Warrior (Foundling Records, 1996) CD single
For What I Love (Foundling Records, 1997) CD single
Colour You (Foundling Records, 1998) CD single
Difference of Me (Noisebox Records, 2001) 7"
PreVV.ep (Noisebox Records, 2001) CD EP
¡Vuka Vuka! (Noisebox Records, 2001) CD
I Didn't Say (Foundling Records, 2003) CD single
Leave Me Out of This (Words On Music, 2003) CD
Caught Laughing (Words On Music, 2006) CD
Compilation tracks
Volume 17 (Volume, 1996) CD risk
A Shrinking World! (Spiteful Records, 2001) cassette little lie
SGC Volume 2 (Sickroom Gramophonic Collective, 2002) 10" old friend
Intertwined - I Hope This Helps In Some Way (Excellent Online, 2003) web download taillights fade
Get Happy (Happy Capitalist Recordings, 2003) CD cheree
Sunsets and Silhouettes (Planting Seeds Records, 2004) CD i didn't say
A Houseguest's Wish (Words On Music, 2004) CD outdoor miner
Never Lose That Feeling Volume 2 (Club AC30, 2006) CD blue thunder