FIEL GARVIE • Leave Me Out of This
[CD released September 2003]
The second album (and North American debut) by Norwich England's fiercely independent recording artist Fiel Garvie features its latest innovations in the delivery of improbable pop music. On
Leave Me Out Of This
the quintet fashions a deluge of art-pop confections through eleven new compositions. Slower, sparser material recalls Björk, Sigur Ros, Cranes, and could find a cozy home on the first This Mortal Coil album. More rapid and riotous songs suggest Lush, The Delgados, The Cocteau Twins, and Garbage. The album was mixed by producer Phil Vinall [Pulp, The Auteurs, Elastica].
"B-rock" and "Flake" frame the album as ambient bookends. Each piece is well suited for a David Lynch film, highlighted by Anne's lingering extemporaneous vocal melodies, over a bed of sparse, delicious instrumentation. "I Didn't Say" and "Caught On" provide some of the album's most infectious moments of authentic, unabashed pop. "Got A Reason" and "Talking A Hole In My Head" are enwrapped in a bigger wall of sound, and lean more heavily on Adam's commanding guitarwork and Jude's gliding subterranean bass lines, recalling elements of New Order, Lush, and Wire. "Got A Reason" in particular craftily weaves Greg's driving syncopated snare in and out of the guitar melodies through to the rousing vocals at the chorus. "He Goes, She Goes" evokes the best of mid-day Cocteau Twins through Anne's exquisite, unmatched delivery, the high peels of revolving guitar noise, Greg's orchestral drumming, and the precious drops of mouth-watering backing vocals delivered by Emma. "There You Go" turns like a merry-go-round, buoyed by an intoxicating meter, sunny-day bells, and the looping quality of Adam's guitar lines and the stirring postscript vocals.
Through eleven songs,
Leave Me Out Of This
weds the innocence of pop with a cunning knowledge of sophisticated musical arrangements at the altar of one of independent music's most extraordinary vocalists. But the delight and wonderment of Anne transcends her voice - what is most remarkable is that her idiosyncratic vocals inconspicuously and organically blend into the perfectly-crafted textural landscapes created by herself and fellow songwriter Adam. The result is a marriage of sound, standpoint, and science that both calms and confronts in a truly unforgettable auditory experience.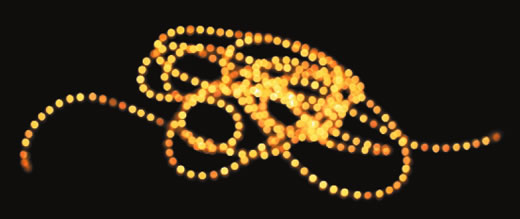 Leave Me Out Of This
is released in a gorgeous eight-panel digipack, enveloped by a sheath, with artwork and design by orphananne.
---
Reviews
Leave Me Out of This
builds a wall of sound that overtakes you, body and soul, pulling you along on an enrapturing journey. They perfectly capture the dizzying of being head over heels, of being lost in something new and uncertain.
--
Dave Heaton, Erasing Clouds
An adventurous, seductive, enveloping sound that holds you in its thrall for 45 entrancing minutes. This pretty little album is just the thing for anyone who craves some new, beautiful, late-night music.
--
Adrien Begrand, Pop Matters
I generally try not to use the term beautiful too often but in the case of this CD I've no choice.
--
Taste [UK]
There's always room for elegant and melancholic guitar pop in this life, and Fiel Garvie make the most of it. Anyone ever taken by the wistful beauty of early Drugstore, Opal and Mazzy Star will want to investigate the UK group's second full album.
Leave Me Out of This
is a welcome, quiet gem of an album.
--
Ned Raggert, All Music Guide
Perfect music from the other side of midnight. This album is a gem.
--
Luna Kafe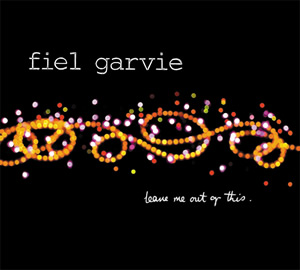 Additional Releases