LORNA • London's Leaving Me
[CD released August 7, 2015]
London's Leaving Me, the fifth record by Nottingham's Lorna and its fourth on the Minneapolis-based record label Words On Music, finds the sextet offering another matchless collection of earnest, egoless indie-pop featuring the unmistakable voices of husband-and-wife songwriting team Mark Rolfe and Sharon Cohen-Rolfe.

The nine-song album opens with "Like Alastair Sim" - a ballad in which gorgeous melodies steeped with heartfelt optimism unfold at a deliberate pace against a growing soundscape of strings, bells, and sparse electronics using the song's acclaimed Scottish actor namesake as its thematic guide.

The single "Wayne Mills" follows with a summery blend of Scottish and indie-pop akin to Belle & Sebastian and Camera Obscura in which jangly guitars, analog synths, and languid, sun-soaked melodies are showcased as the Rolfes recount a tale about a neighborhood friend. The song features a guest appearance from Andy Mellon (Bellowhead, Damon Albarn) on trumpet.

As a mid-album counterpoint to the densely orchestrated pop gems that precede and follow it, Lorna offers "Smothered In Hugs" – a stark interpretation of the 1994 Guided By Voices song in which an acoustic guitar anchors the Rolfe's richly textured vocals to create a marked contrast to the atonal low-fi buzz of the GBV original.

London's Leaving Me closes with the Matt Harrison-penned "You, Me, and the Holy Ghost" – a reverie that captures Lorna's dual mastery of tunefulness and ambience as Sharon Cohen-Rolfe effortlessly coos melodies from the lips of Julee Cruise while patient, tremolo-infused guitars summon Angelo Badalamenti's work on Twin Peaks.


---
Reviews
Lorna bleed shoegazing ambience with bittersweet Belle & Sebastian indiepop. Lovely stuff.
-
Uncut (UK)
The folks in Lorna succeed where others fail because they're smart...they're talented...and they don't sound like everyone else. Instead of following familiar trends or overtrodden paths, these folks faithfully follow their own muse. Nice, moody, smart, and inventive.
-
babysue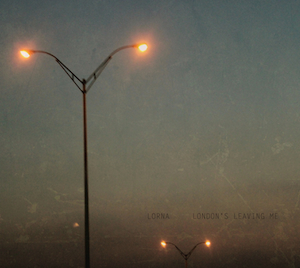 Additional Releases