SHOULD • A Folding Sieve
[CD released March 2002]
Words On Music is proud to re-release Should's classic 1995 American shoegaze CD-EP A Folding Sieve. This reissue doubles the number of tracks of the original album (which was released on Austin Texas' ND record label under their former name shiFt). Added to this album are both tracks from the 1997 7" single on ND that featured Should's cover of the Jean Paul Sartre Experience song "Own Two Feet," a cover of the 18th Dye song "Merger," and four unreleased songs recorded in 1995 and 1996.

The mini-album garnered enthusiastic praise from Alternative Press who decreed A Folding Sieve had even outshone the Lilys brilliant In The Presence Of Nothing debut album. "Rolling" opens the album with Tanya Maus' naked, wax-melting voice that recalls Mimi Goese of Hugo Largo. Expansive atmospheric guitar washes propel the breathlessly beautiful "Breathe Salt" and "Pulling." The looping guitar riffs on the catchy "Feels Like Morning" recall the Ultra Vivid Scene anthem "Mercy Seat."

In addition to the notable Jean Paul Satre Experience and 18th Dye interpretations, Should also give a nod to Loop and Playing With Fire-era Spacemen 3 on "Inst1" with its dulled howling guitar and bass pulsations. "Faded," another bonus track, has the buoyancy of early Pale Saints, with the imprecise, lush vocal patterns of Chapterhouse.

A Folding Sieve stands tall among the giants in the first wave of great shoegaze albums and is an essential album for any collector of dream pop.


---
Reviews
[Should] invest your world with wonder. They make you want to babble improbable metaphors to describe their music. When that happens, you're in the presence of greatness.
--
Dave Segal, Alternative Press
Slow, winding melodies, dense, layered guitars, buried vocals and enough white noise to bring My Bloody Valentine out of retirement.
--
CMJ
Sheer brilliance!
--
The Big Takeover
Four stars [out of five].
--
All Music Guide
Soundtrack music for the mind.
--
Magnet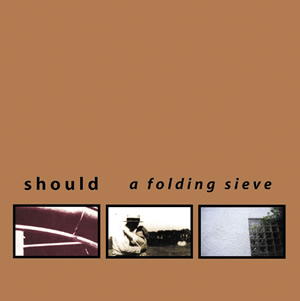 Additional Releases